Biliary Tract Cancers (BTCs)
Biliary tract cancers (BTCs) are relatively rare, with only 1-2 cases per 100,000 people. The diagnosis of biliary tract cancer is, however, associated with a very poor prognosis and the response rate to current therapies is unsatisfactorily low.
Also known as cholangiocarcinomas (CCA), over 90% of BTCs are classified as adenocarcinomas. They are divided into extrahepatic, intrahepatic, hilar (Klatskin tumour), and distal biliary tract cancers as well as carcinoma arising from the gall bladder (GBC). Klatskin tumours make up 60-70% of biliary tract cancers.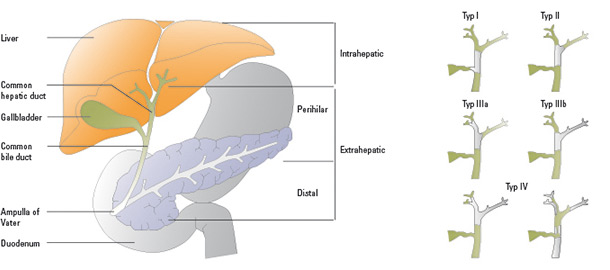 Figure 1: Types of biliary tract carcinomas (left): Malignant tumours can develop in the extrahepatic, intrahepatic, perihilar and distal portion of the biliary tract and in the gallbladder. Bismuth classification of Klatskin tumours (right): Shaded areas represent the tumour, green areas healthy tissue. (Modified from Groen PC Gores GJ, LaRusso NF, et al. Biliary tract cancers. N Engl J Med 1999;341:1369)

Biliary Tract Cancer – Diagnosis and Therapy
Unfortunately, biliary tract cancer is not often diagnosed until it is advanced. Approximately 35% of patients already have metastases at the time of diagnosis.
The only curative approach is complete surgical removal of the tumour, but only 10-20% of patients are operable at the time of diagnosis. Even after complete removal of the tumour, the relapse rate of biliary tract cancer is high. The 5-year survival rate lies between are approximately 5-10% for gallbladder carcinoma and 10-40% for cholangiocarcinomas, Systemic chemotherapy plays a central role in treating patients with biliary tract carcinoma. After the failure of the primary and possibly secondary treatment, there are currently no remaining additional approved therapeutic options.
CAP7.1 and Clinical phase II (PIITCAP) Trial in Biliary Tract Carcinomas
Recently, a phase II study with the chemotherapeutic agent CAP7.1 was started in refractory patients with biliary tract carcinoma. CAP7.1 has already been tested in a phase I trial for safety and efficacy in 19 adult patients with various therapy-resistant solid tumours at an advanced stage, where it was well tolerated by the majority of patients. A total of 12 patients showed disease stability over several months and a reduction in tumour size was observed in several cases. These initial results suggest that CAP7.1 may be effective in a variety of cancers. The program has now progressed to phase II trials and is open for patients with biliary tract carcinoma to participate.